Are You Tired of Living In Pain?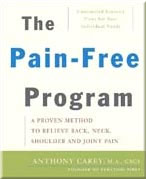 If you're one of the 35 million Americans who experience restrictions in their daily life due to chronic pain, then chances are you've lived with it for quite some time.
Most people do.
When our bodies are injured, whether it's a back, knee, neck, or even wrist injury, our bodies automatically start compensating for the injury and learning ways to "cope" with the pain.
The Pain-Free Program: $15.95
Has Medicine Temporarily Dulled Your Pain, But Not Eliminated It?
We go to the doctor, get some anti-inflammatory drugs, and believe that the medicine will just make the pain go away. Problem solved.
The trouble with this scenario is that the pain rarely just "goes away." It certainly doesn't go away for good.
It often gets worse, and we have to take more and more medication to make it stop. Soon, even that stops working.
Does It Seem Like No Matter What You Try, Nothing Works?
In the meantime our body is changing to compensate for the injury, becoming unbalanced and creating even more stress as it becomes increasingly off-kilter.
It's a snowball effect, and the root of the problem is rarely addressed.
You Can Eliminate Your Pain, Without Medication
The Pain Free Program can show you how.
In this book …
"For decades orthopedists and neurosurgeons told me I'd simply have to put up with my bad back. Anthony Carey told me otherwise. I've been living pain free ever since."
Parvez Mahmood, M.D., F.A.C.S.
Here's Just A Sampling Of What's Covered In This Breakthrough Book:
Over 100 photographs and illustrations that demonstrate how to do these simple corrective exercises, including the appropriate exercise positions, techniques and modifications (so you can do them correctly in the privacy of your own home)
"With my businesses I have been around the world of orthopedics for many years. So when my wife Barbie went to see Anthony Carey at Function First for her shoulder problem, I had my doubts about their approach. Once I saw the incredible results she had, I had to try it out for myself. And now I am a believer too. Read this book and open your eyes to a world of possibilities and hope for helping your aches and pains."
Greg Nelson, Co-founder and Board of Directors Bregg Orthopedics
Not Only That, This Book Also Reveals How You Can Prevent Future Injuries
The Pain-Free Program: $15.95
Isn't it time you started on the path to a Pain-Free life?
The Pain-Free Program gives you the tools you need to get rid of your pain for good. And, it can help you stay healthy for the rest of your life.
PURCHASE TODAY AND RECEIVE TWO SPECIAL BONUSES!
Purchase The Pain-Free Program right now and Anthony Carey will give you two special bonuses.
BONUS #1: Special Bonus Chapter (a $19.99 value)

Receive a special bonus chapter, "Your Pain - Your Problem," that was cut from The Pain-Free Program book for being "just a little too honest." This chapter includes important, never before released information and is ONLY available when you purchase The Pain-Free Program right here on the Function First website.

BONUS #2: Have Your Book Personally Signed By Anthony Carey. Anthony would be happy to personally sign your copy of The Pain-Free Program. Just include your name, or the name of the person you would like the message addressed to, when you place your order.




Purchase "The Pain-Free Program"
Today and Get Your Two Free Bonuses!

The Pain-Free Program: $15.95

A Glimpse Inside The Pain-Free Program – The Function First Forms:
Which One Are You?

These are the 6 Forms represented in the book, The Pain Free Program.

Which one do you look like?

Each Form has 3 potential exercise programs associated with it based on your Classification. Classifications are determined by the role you most frequently fulfill during the day (Physical Work, Dexterity Work, or Multi-tasker) and the movement requirements associated with it.

Having a challenge picking which Form you are? Click here for help.

Want to see some real-life examples of the different Forms? Click here

"Anthony Carey scores a bull's eye! Since we are all different, how can we expect the same therapy program to work for everybody? We can't. This book clearly describes the basic differences between us, allowing you to customize a therapy program that will get you well along the road to recovery. Striving for a pain-free lifestyle is a goal we all want to achieve, and this book is a powerful tool to help you attain that goal."

Bradford Stiles, M.D., Medical Director California Sports & Industrial Medical Center




"As a longtime dance and fitness advocate, I have always understood the importance of proper body alignment and body mechanics. Anthony Carey explains these concepts in-depth and provides easy-to-follow exercises to maintain, regain, or prevent loss of physical mobility - the basic principles of Function First. I have sent many friends and associates to Function First, and the result has been lots of happy, pain-free bodies. I'm grateful to have found this wonderful program, which has helped me stay healthy and strong."

Judi Sheppard Missett, Jazzercise Founder and CEO




"We all age, some more gracefully than others. It seems as though pain is our constant companion with our passing years. Function First: The Exercise Alternative for Pain Relief is a practical, safe and effective approach for anyone to take control of their pain. The tools provided in this book will help counteract years of misuse. This is a must book for those that want to keep control of their health, enhance their life and live actively."

Tom Campanaro, CEO/President EFI Sports Medicine and Total Gym




"Anthony, I have read through your book, and in a word, I think it is excellent. You are homing in on an essential practice, principles and body of information that will help people live healthier balanced lives-period. I believe you are quite correct in that we can gain back a large measure of physical function if we apply the principles and practice you espouse. I believe you are breaking new ground and presenting ways to help us all lead healthier lives."

David Meggyesy, Western Director of the N.F.L. Players Association


Purchase "The Pain-Free Program"
Today and Get Your Two Free Bonuses!


The Pain-Free Program: $15.95