If I have had the pleasure of working with you, you have probably heard me speak of the need to score your "wins" as you move through the process of beating your pain. "Wins" are those smaller victories along the way to the ultimate goal of eliminating pain and doing all the things we physically want to do.
For so many of those challenged by chronic pain, their assessment of their pain is either they have it or they do not. This black and white view of the situation can be one of the most burdensome mindsets, hindering one's progress. The reality is that there are many, many shades of grey in between.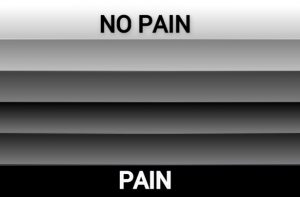 If the view is black and white, there is no win unless the pain has been completely eliminated forever. Eliminating the pain forever is an achievable goal worth pursuing, but without a progress meter along the way, we do not know if the goal is right in front of us or 6 months or 6 years away.
Let us say that you have lower back pain and at its worst it is an 8 (on a scale of 1-10 with 10 being the worst). The back pain is an 8 whenever you stand too long. And when the pain reaches an 8, your back is aggravated for a couple of days afterwards. On average your pain is a 5/6 on most days if you take 400mg of Tylenol, twice a day.
You are frustrated and fed up and decide to begin a new program (Function First, chiropractic, physical therapy, acupuncture, etc.). At Function First, we would want to know more accurately what is "too long" for standing that gets you to an 8. Is it 5 minutes or 50 minutes? These are more objective time frames and easier to compare. We would also want to know more accurately how long afterward is your back pain aggravated? Is it 24, 36, 48 hours? If you do not know, this is a major reason why we ask you to track and journal your experiences. By journaling, you are not reflecting on a situation when you are in the throes of the emotions associated with the pain.
Scoring Wins
After two weeks of your new program, you still have pain that is an 8. In the black and white pain scenario, you are exactly where you were two weeks prior, minus the time and money you have spent. But in the finding wins on our way to the ultimate goal, progress is there if we look for it.
There are 3 fundamental ways we can gauge our progress. They might present individually or in combinations of two or more:
1. The overall level of pain is less. Your average pain of a 5/6 on most days is now a 2/3. Or your pain is still a 5/6 but you no longer need to take the Tylenol to control it. You still have pain but that is progress!
2. Your tolerance is greater. You could only stand for 15 minutes, and the pain was an 8. Now you can stand for 30 minutes, and the pain is an 8. Yes, the pain is still an 8, but you have increased your standing tolerance 100%. Another example might be your range of motion. You would squat to 45 degrees and your knee pain would be a 6. Now you can squat to 90 degrees before your knee pain is a 6.
3. Your recovery is faster. You stand for 15 minutes, and the pain is still an 8. However, you do your Function First exercises, and the pain is back down to a 5 within a couple of hours. You are no longer physically and emotionally burdened with the extended recovery time every time you push your body to stand. Or you love golf or tennis and could only play once a month, because your back needed that long to recover before you could play again. Now, your back still is painful after a round or a match, but because you are doing a strategic exercise program, you can now play once a week as your body gets more functional and stress is removed from the back.
As I share with all my clients, this is not something anyone should be convincing you of. It is simply recognizing progress (wins) that have occurred on your journey. This provides extremely valuable affirmation to the brain that you are on the right track and making progress. It provides hope and motivation to continue to strive for what is possible.
No one wants to be spinning their wheels hoping one day that magical door to a completely pain-free life will suddenly open. With the right intervention, supportive and educational coaching and acknowledging your wins, the path is clearer, and the goal is within reach.
Tags: chronic pain, lower back pain, pain science, Pain-Free Program, understanding pain