Back in the day, I considered myself a pretty "with it" kind of guy. I was up to date on music, fashion trends, etc. Keep in mind this was pre social media days and dial up internet, so you got your style through TV, magazines, clothing stores and social interactions. Living in Southern California and single at the time, there seemed to be an ever-present pressure to dress the part.
In those days I spent exponentially more time shopping for clothes then I do now. We would walk the malls or the trendy stores in Pacific Beach or downtown. One of those mall stores that is still around today is Abercrombie and Fitch. A store with the latest styles, hip décor and sales people as beautiful as the models in their ads.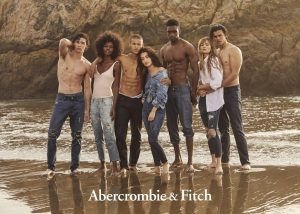 Do you know how much money I have spent at Abercrombie & Fitch throughout my life? Zero. Zilch. Nada.
Is it because I didn't like their clothes? Or because their clothes are too expensive? The answer is "no" to both. I did like some of their clothes and I did spend time in their stores until I didn't.
After a few visits to more than one branch of their stores, I could not get past the genetically gifted salesperson in their early 20's, still living with their parents, barely making above minimum wage, treating me like one of the Beverly Hillbillies walking into Tiffany's.
Their arrogance, air of superiority and lack of interest in serving was palpable. This was their show, and I was fortunate to be granted an audience.
If you are a trainer, coach, therapist, chiropractor, etc., you may be communicating what those salespeople did, and you do not even know you are doing it. Especially if you yourself are fit, or attractive, or without pain or limitations, have a graduate degree, etc., you may be communicating signals of arrogance or superiority or even doubt when they describe why they have not achieved their health goals.
Especially at this time of the year, people are motivated for positive change. And although the numbers related to those that drop off are consistent every year, there may be a need for us to take a look in the mirror and ask if we are doing all that we can do. It is abundantly clear in the literature, that success of our clients or patients goes well beyond the mechanics of exercise or therapy.
I have learned a lot about this side of human interaction in our industry from Bobby Cappuccio. Some of you know Bobby from his sections in the PFMS curriculum. I encourage you to follow Bobby and/or check his website because he regularly provides excellent content.
Whether your interactions with clients are virtual or in person, my advice is the same:
1. Be empathetic.
2. Choose your words wisely.
3. Make your desire to serve your client's needs your priority.
4. Don't be a d*ck.
Tags: coaching, education, fitness education